(Click here for a detailed close-up of the map)
Swiftmaps.com presents our best selling World Wall Map as well as being our most detailed! This amazingly detailed and colorful political world wall map measures 48" tall and 78" wide. Map is a full 8-color wall map and is rolled. The colors are extremely vivid in this world map series, and unlike any other wall map you will see. This map is brand new and is politically up to date. The production and cartography of this map was put together with some of the best mapmakers in the World. This map will make an awesome impression on your home, office or boardroom wall! This map also makes a wonderful educational tool for the classroom. If you want the best world wall map in print...this map is for you!
 This wall map is available in Paper, Laminated, Wallpaper, Canvas, Self-Adhesive or Framed. We also offer a laminated and railed edition for those who need a cost effective and appealing hanging solution. The dark wooden rails are mounted to the top and bottom of your map. (To see a rail sample click here!) 

NOW AVAILABLE IN WALLPAPER:  -  Wallpaper editions are now available in classic wallpaper (needing standard wallpaper pastes) or a new revolutionary wallpaper called QuickStik!!  QuickStick is a Pre-Pasted wallpaper that only needs water applied with a spray bottle to the back surface for application.  It's as simple as that!  Why deal with messy glues and wallpaper pastes? - NO MORE!!  Another great benefit of QuickStick is that it can be easily removed without damaging the wall surface.  We are proud to be the exclusive USA map company specializing in this new wallpaper media.  Check out this cool installation video on YouTube for a glimpse into the world of QuickStick!!  http://www.youtube.com/watch?v=zFINhueDJtw

NOW AVAILABLE IN PEEL n' STICK!! - Peel n' Stick is a self-adhesive format which can be repeatedly removed and reapplied without losing its sticky properties. Adheres to almost any smooth surface, including painted and unpainted drywall, plaster, smooth boards, wood laminate, wallpaper, foam board, glass, windows and tile. The map can be removed at any time and relocated or stored using the backing paper supplied.  NO screws, rails, nails, pins, hooks, strings, tape or glue are required to mount this product – the special adhesive backing does all the work.  Simply peel your map and stick it! Peel n' Stick products are printed with fade resistance inks on a specially designed 3-layer vinyl, for the perfect clarity, color reproduction and durability. Peel n' Stick will not tear or crease and feels like a high-quality map. Want to re-locate your map?  Simply peel and replace on a different wall, or re-apply to the backing paper supplied for transport or storage. Now you can display your map where you want it, when you want it. Peel n' Stick will change the future of wall maps and wall murals worldwide and we're proud to be leading the way. (Click here for more information on Re-Tac)
NOW ON CANVAS: This map is now available on canvas. We use 100 year UV inks to produce our canvas maps. Maps on canvas create a truly remarkable piece of art. Canvas maps are available rolled/shipped in a tube or now available stretched around a wood frame for a true piece of museum quality art. Stretched canvas maps are very fragile and require a heavy-duty custom wood crate for every order.  We take pride in making sure you receive a perfect piece of art upon delivery. (Click here to see a sample stretched map)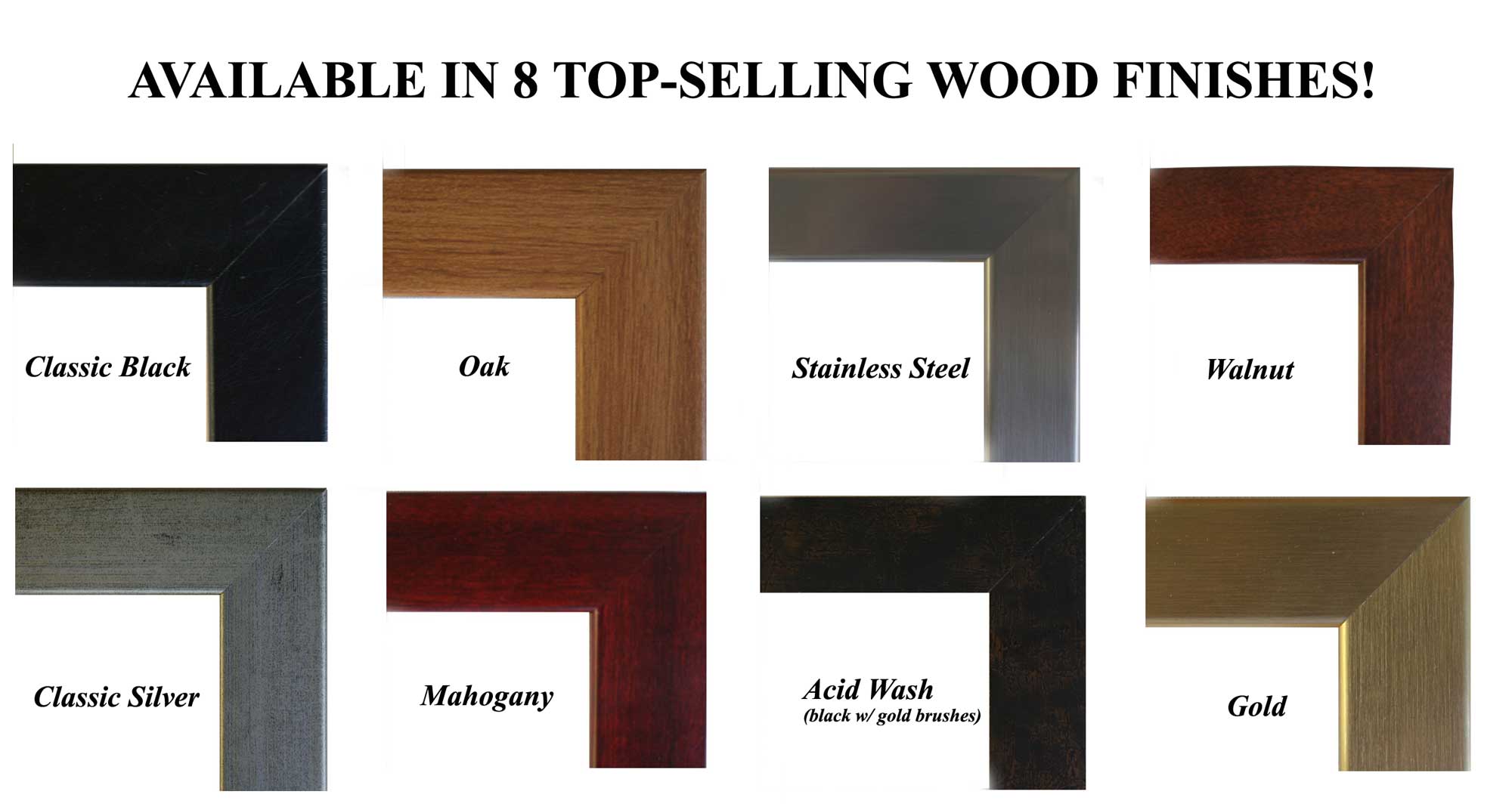 (CLICK FRAMING IMAGES ABOVE FOR HIGHER-RESOLUTION IMAGE)
Framing Details: Swiftmaps is proud to now offer their own line of framed wall maps.  We have chosen the top selling 8 finishes of wooden framing and made them available with many of our popular wall maps.  All wooden frames are produced with top quality products and professional framers and include all mounting hardware for easy hanging.  Our line of wooden frames are 1 1/2" in width. We have found this to be the most popular size for wall maps.  All framed maps are first mounted to a heavy-duty foam/cork board then sprayed with a professional protective coating to give your map an extra layer of protection from dirt, oils and moisture. Custom decorative framing and glass covers are upgrade options for special order on request.  Please contact us for these custom requests.  If you want it, we can make it!! Email us at sales@swiftmaps.com with any questions. 
*** Note: Stretched canvas editions wrap 2-3" of border from each side lessening overall size *** 
Please note that all framed maps are very fragile and require a heavy-duty custom crate for shipping.  We take pride in making sure you receive a perfect shipment!!